We're a small town with a big art scene.
We've all taken a walk through the city and spotted something on a far-off building that has left us awe-struck. But what if you didn't have to go all the way to the city to see gorgeous immersive artwork? Look no further than Greensburg/Decatur County. With three bold and intricately painted murals, all within walking distance from the famous tree in the courthouse tower, you no longer have to travel to be enveloped by inspiring works of art.
Murals and public art have been around for decades, from the Italian frescoes of the Renaissance to the more graphic bold brushstrokes you see on buildings today. The purpose of most public murals is to beautify the urban landscape while uplifting the community. From cityscapes to small towns, murals not only are a form of creative expression but an identity. They celebrate the history and achievements of a community and draw in visitors which in turn helps our rural economy. 
ArtisTree meets community.
Our tour takes place downtown in what locals call the ArtisTree District where arts and culture collide to create a thriving intersection of artistic assets, unique local businesses, and even international cuisine. The ArtisTree District is a one-stop-shop for all of your creative needs. So grab your camera and head out the door for some sunshine and several insta-worthy shots of awe-inspiring murals. Don't forget to tag us on social media @visitgreensburg.
For a half-day itinerary in downtown Greensburg that includes a photoshoot, where to eat, and a full walking tour of the murals, go to visitgreensburg.com and download our Visitor's Guide! 
1. Love Grows Here Mural
Bold, large white text spelling out "Love Grows Here" stands in stark contrast to the vibrantly painted surface of the Medical Cab building on 312 West Main Street. Visitors and residents can expect to be greeted with graphic lettering and a colorful kaleidoscope of brushstrokes. Painted by professional artist Zane Stats of Green Bay, Wisconsin, Love Grows Here is a refreshing bright pop of color in our downtown landscape. Stats seamlessly depicts our agricultural roots through a welcoming message and eye-catching design while encapsulating the essence of our communal identity.
2. #WhatLiftsYou Mural
Intricate design and bold line-work make this interactive set of wings a must-see photo opportunity. Located at 232 North Broadway Street, #WhatLiftsYou was designed and executed by world-famous artist Kelsey Montague in her signature high-contrast style. Montague has created over 110 murals all over the world with few Midwestern installations making Greensburg a destination for any art aficionado. This thought-provoking mural depicts key features of our community including the Courthouse Tree and a famous round barn. What other images can you find in Montague's intricate wings?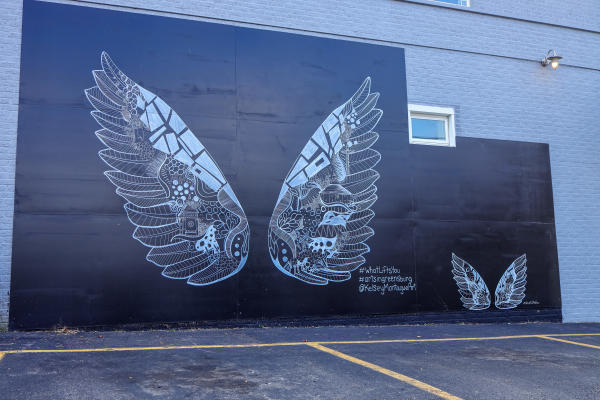 3. Keep on Truckin Mural
Delicate florals and vintage iconography adorn the Decatur County Community Foundation building at 101 East Main Street. Painted by local professional artist Haley Burton, Keep on Truckin is a colorful statement of growth in our community. While delicately painted florals give reference to our deep agricultural roots and natural landscape, the image of an antique car pays homage to our industrial economy. Burton's work challenges viewers to get in touch with their roots and travel outside of their comfort zone.