Dine-in or takeout.
With fall fast approaching and COVID in full swing, many of us have been cooking most of our meals at home. Takeout has become the new alternative to restaurant dining and while you might feel like you've exhausted all of your options in the kitchen and for takeout in the area, we've put together a list of top-notch Southern Indiana famous fried chicken. Open for dine-in or takeout, whichever makes you feel comfortable. Take a weekend to try all three and conduct your own taste test to see who has the best fried chicken!
Welcome to the Fried Chicken Trail.
Flour. Salt. Pepper. This small trifecta of ingredients gives Southern Indiana a fried chicken reputation that is unrivaled. We've curated a miniature food tour called the Fried Chicken Trail to taste the best of what Decatur County's fried chicken experts have to offer. 
Interested in the secrets behind making crispy juicy beautiful fried chicken? In Episode 3: The Fried Chicken Trail of our podcast Beyond the Tree Tower, we speak with internationally acclaimed food writer Michael Rulhman and hear from the owners themselves. To listen go to visitgreensburg.com.
1. Stone's Family Restaurant
Located in Millhousen at 2376 East County Road 820 South, Stone's Family Restaurant has been serving families and visitors since 1934. While Stone's offers many scrumptious bites a la carte and buffet-style, they are known for their famous fried chicken. They started out pan-frying chicken back in the 50s and were met with a huge response. Now Stone's goes through as many as 125 chickens on a Saturday night. To keep up with demand they have since started deep-frying their chicken while staying true to the original recipe and practices. Don't forget to try the smoked wings, livers, and gizzards.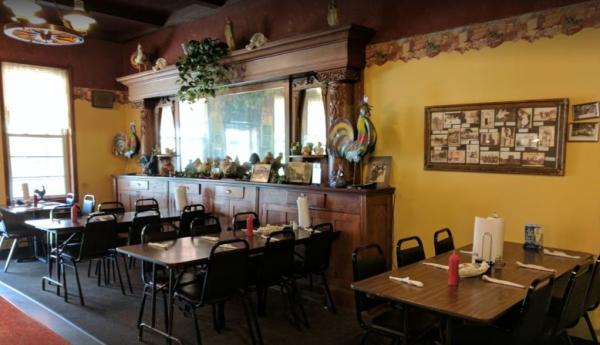 2. Fry's A&W Drive-In
Although A&W is a big name fast-food restaurant known for good ol' American classics such as root beer floats, burgers, hot dogs, and fries, this Greensburg establishment has a trick up its sleeve. Located at 1501 North Lincoln Street, Fry's A&W has been delighting appetites since the late 70s. Their secret? Incredible Southern Indiana style fried chicken that can only be found in the area. They source their chicken locally and cook it up fresh with lots of pepper. You can get a whole chicken or customize with your favorite pieces. We're sure that Fry's A&W will quickly become a part of your family's traditions as it is for many Greensburg residents.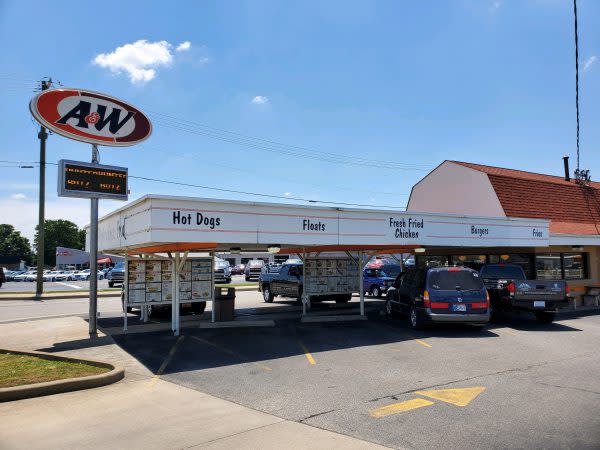 3. Fireside Inn
To finish up our Fried Chicken Trail tour we're going to Enochsburg's Fireside Inn at 2174 South County Line Road. Coining the phrase "it's a family tradition," Fireside Inn has been serving up some of the best fried chicken in Southern Indiana for over five decades. With a rich history, they've grown from serving eight chickens upon opening to an average of 120 on a Saturday night. Everything is fresh and hand-crafted even down to their coleslaw which is chopped and made in-house. We recommend checking out their weekly wing night specials and house-made sides.